Skip to Main Content
It looks like you're using Internet Explorer 11 or older. This website works best with modern browsers such as the latest versions of Chrome, Firefox, Safari, and Edge. If you continue with this browser, you may see unexpected results.
What are Preprints?
A preprint is a version of a research manuscript published before peer review. Typically these documents and made freely available on large databases - preprint servers or repositories. Publishing a preprint aims to speed up the process of disseminating research, u to generate a conversation around your research and gain feedback from others.
Preprints have a number of benefits:
they enable researchers to establish an early claim for your research findings;

they signal to colleagues and other researchers your research interests and encourage collaboration and feedback;

you can publish the outputs such as posters, protocols, papers, and presentations that are not suitable for journal publication;

they provide evidence of authors productivity as well as improve their visibility;

preprints are open access, anyone can see your preprint and they are easily shared or discoverable using web search tools such as CORE and SHARE;

preprints are the fastest way to share and disseminate your research.

easy and open access usually means more citations.
arXiv
"Started in August 1991, arXiv.org (formerly xxx.lanl.gov) is a highly-automated electronic archive and distribution server for research articles. Covered areas include physics, mathematics, computer science, nonlinear sciences, quantitative biology, quantitative finance, and statistics. arXiv is maintained and operated by the Cornell University Library with guidance from the arXiv Scientific Advisory Board and the arXiv Member Advisory Board, and with the help of numerous subject moderators."
PrePubMed
"PrePubMed indexes preprints...articles are not stored on PrePubMed, but you will be linked to the article at the respective site."
MedRxiv
The preprint server for health sciences.

"Caution: Preprints are preliminary reports of work that have not been peer-reviewed. They should not be relied on to guide clinical practice or health-related behavior and should not be reported in news media as established information".
Further Reading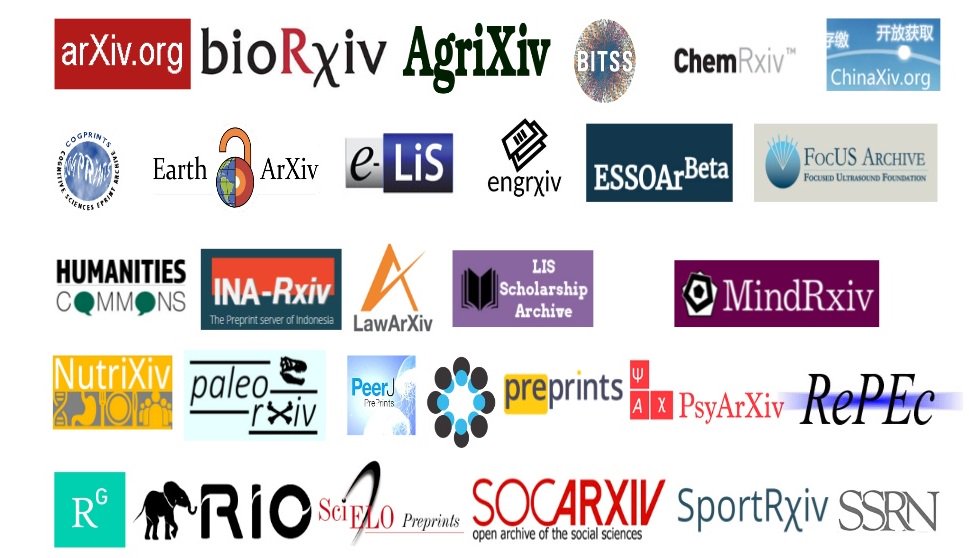 Get Ready to Preprint (checklist)
https://www.plos.org/preprint-checklist
Point or view: Priority of discovery in the life sciences eLife
http://dx.doi.org/10.7554/eLife.16931
Ten simple rules to consider regarding preprint submission
https://journals.plos.org/ploscompbiol/article?id=10.1371/journal.pcbi.1005473